Check out all of our new updates, which include several new features; Image Focus Point, Waze, Moovit, and more!
Image Focus Point
We've added a new feature for the Homepage background image / changing images. This new tool lets you select a focus point in an image - this is to set the picture for best display on mobile and tablets. The focus point on the image will be focused on as the system adjusts responsively to different viewing devices. This option is also available on the Promo page Background Image / Changing Images.

New! Waze Integration
A new Waze button is now available with the address tool in the header menu options. When your visitors click on this button in your website, the system will open the waze app immediately for easy navigation to your address. When clicking the waze button on desktop, your visitors will see the location via their browser.

New! Moovit Integration
Along with the Waze option, we have also added the Moovit app inside of the menu options navigation bar, in the location address section. Moovit is a public transit app that can help your visitors find their way to your location around cities using public transportation. Just like with the Waze option, the Moovit button will be open as an app on mobile, or display the location in the browser when in desktop mode.

Custom Form Update
We've added the option to add a text description for the custom form. With 7 new layout designs that we have just added to the custom form page, you can now create a beautiful custom form on your website.This will help you gather all the desired information from your visitors.

Single Page - Sliding Window
We have added the option to set a single page website with or without a sliding window ("pop-up"). This option determines whether your website's page links will open in their own page (redirect), like in a multi-page website, or open as a sliding window.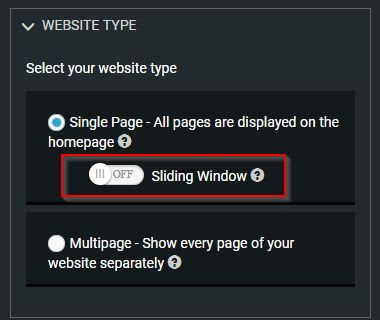 Add New Category - Now a FREE tool
The "Add New Category" option - This option that allows you to create a dropdown menu from your website menu is now open to everyone (both free and premium users). Now you can create categories and rearrange your pages on your menu to create the desired navigation style on your website.

Events
We have added the option to display the information about an event without displaying price or a registration form on the "Events" page. This way you can add events to your website for your visitors to browse without requiring registration.